During the three-hour meeting, Salehi and Davutoglu emphasized the need to hold regular consultations between Iranian and Turkish officials on the developments taking place in the countries that have been experiencing pro-democracy uprisings in order to help defuse the crisis in these countries, help people realize their legitimate demands, and help prevent foreign intervention in the internal affairs of these states.
The negotiations also covered the developments in Egypt, Tunisia, Libya, Iraq, Syria, Lebanon, Bahrain, and Palestine as well as relations between Tehran and Ankara.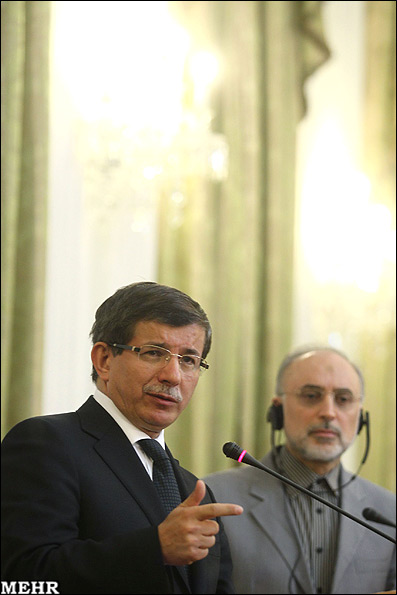 Davutoglu (L) and Salehi talking to reporters.
During a joint press conference after the meeting, Davutoglu said, "All regional countries should pay attention to public demands and consult with great nations in the region such as Iran."
He also stated, "Syria is (Turkey's) valued and good friend and is the brother of Turkey and has close relations with Iran."
"In tonight's meeting, we exchanged views on the issue of Syria," Davutoglu said, adding, "Our positions and consultations are in line with (efforts to help) resolve the problems, and we share our concern and viewpoints with our brothers."
On Ankara's stance toward the pro-democracy uprisings in the region, he said, "We are opposed to resistance to public demands in regional countries as well as any action which violates human rights, and at this critical juncture we call on regional governments to respond positively to people's legitimate demands."
Salehi said, "Syria, Iran, and Turkey are members of a family, and if any of the members of the family faces a problem, the entire family should make moves to help remove that."
He also stated that necessary measures should be taken to prevent sectarian strife in the region.
"Iran is the friend and brother of Turkey and Syria, and (holding) consultations between members of a family is normal," he added.
Regional nations will not fall for outdated U.S. plots
The Turkish foreign minister also met with secretary of Iran's Supreme National Security Council Saeed Jalili on Monday.
During the meeting, Jalili said that regional nations' awakening and vigilance about the outmoded plots of the U.S. will not allow the global arrogance (forces of imperialism) to extend its dominance over the region.
Davutoglu also emphasized the need to hold consultations between Iranian and Turkish officials.
EP/AMR
END
MNA