If anyone could ever be in favor of Tehran's hot, arid weather of nearly 40°C in summer, then it must probably be the Brazilian Petruz Açaí group, whose icy, delicious juices and frozen dark-purple, berry-like fruit are more likely to find a wider reach in the Iranian market than they would in colder places where the initial demand for the exotic product may be low due to insufficient knowledge of what açaí really is all about.
Speaking to export manager of Petruz Açaí, Thamiris Queiroz, at the 25th Iran Agrofood in Tehran, she said Iranian people are naturally curious about tasting new flavors, promising that once you get a taste of the açaí fruit, whether in purée or pulp or juice, you will get addicted to the rich flavor to the point where you would like to have an açaí serving every day, much like the people in north of Brazil where she comes from.
I did get a taste of açaí pulp mixed with water at the exhibition; a taste that is really difficult to put into words, as "there is no other fruit with this kind of flavor," she said, adding that without sugar, it tastes a little bit bitter. But if I had to try, I would liken the rich flavor to raspberry jam (a favorite in northern Iran) and dark chocolate.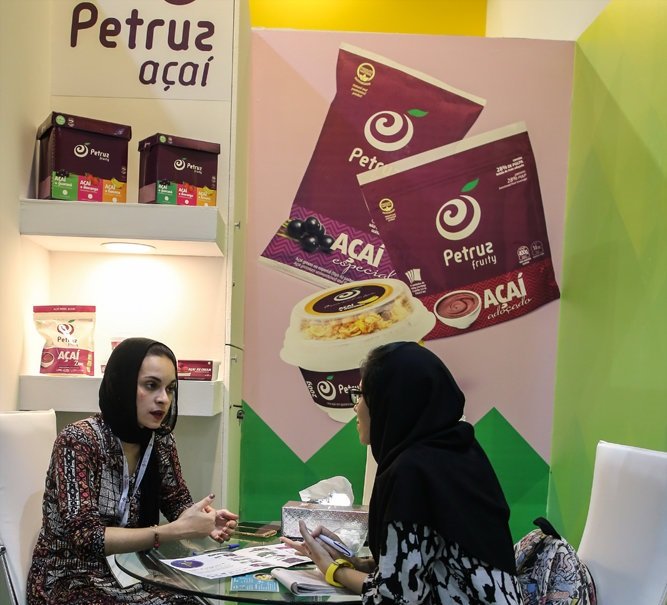 But what really is açaí? Ms. Queiroz described it as a "superfruit" before lavishing high praise on it for its remarkable score in the health benefit department. The small, dark-purple grape-lookalike grown in Brazil's Amazon rainforest has not been called a superfruit for nothing; it is a rich source of antioxidants, amino acids and essential fatty acids such as omega-3, good for balancing blood pressure and treating cardiovascular diseases, and omega-6, which can have a positive impact on your cholesterol levels.
According to her, fresh açaí berries are not available outside the Amazon due to their short shelf life, and are exported as a frozen fruit, powder, purée, or pressed juice.
Apparently, people around the world are very fond of serving açaí in a bowl ('Açaí na tigela', they call it, which literally means 'açaí in the bowl'). Açaí na tigela is a popular Brazilian dish with frozen and puréed açaí, served as a smoothie in a bowl, hence the name. The bowl can be served with a variety of toppings, such as bananas, strawberries, and kiwis, each adding their own plethora of health benefits to the already vitamin-rich superfruit. It is also, not surprisingly, very tumblrworthy.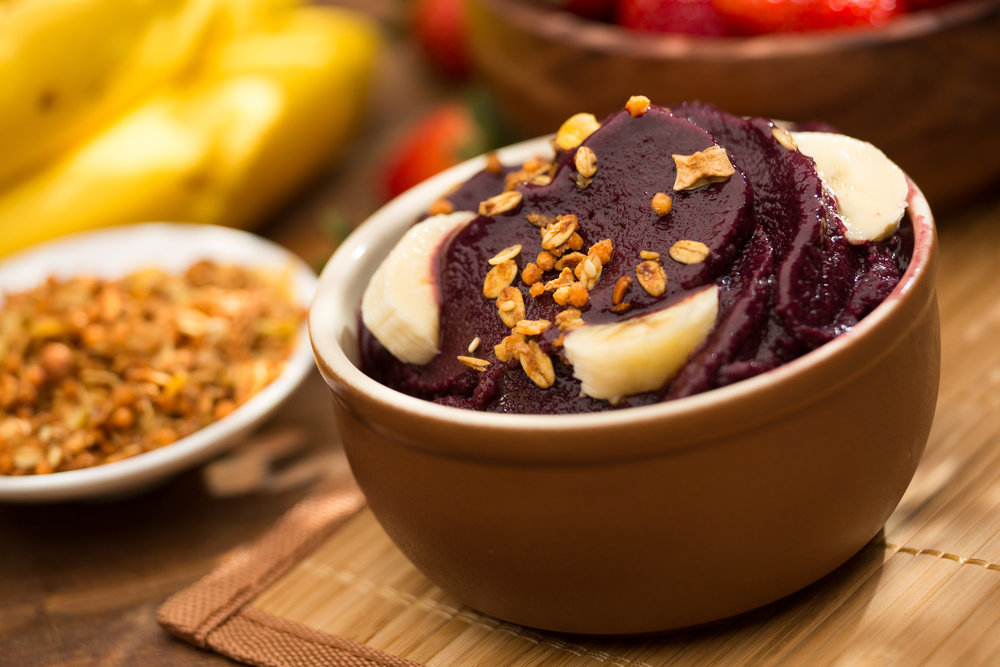 "All of our products conserve all the vitamins and health benefits that açaí has to offer. We add citric acid to açaí to better absorb vitamins and conserve the product," she said.
But how popular is their brand across the world? "We already have a branch in the US, warehouses in Florida, Los Angeles, New York and California," she explained. The Group has offices in US and Italy, and exports directly to more than 30 countries worldwide including Sweden, Japan, Canada, and in the Middle East such as UAE, Kuwait and Bahrain.
She said a global study on suprtfruits which covered açaí helped spread the popularity of the fruit across the world.
"As Iranian people don't know much about açaí, we will start promoting it via samples in supermarkets," she said. "We have already met some interested companies, and I am optimistic about cutting a deal with them."
The Petruz Açaí was just one of the 11 Brazilian exhibitors that were presenting their products to the professional visitors. The Brazil pavilion was organized in cooperation between the Ministry of Foreign Affairs of Brazil and the Ministry of Agriculture, Livestock and Supply of Brazil. A representative from the Embassy of Brazil in Tehran was also present at the pavilion, providing information and support to Iranian companies interested in doing business with Brazil.
Another stand at the Brazilian pavilion that caught my eyes was the Francfort Trade, a private Brazilian company specialized in the sales and marketing of nuts, most notably the Brazil nut. Mr. Henrique Santos, Foreign Trade Manager at Amazon Brazil Group, who was in charge of the stand, showed me a coconut-lookalike the size of a baseball and told me to shake it. The slight rattling sound coming from the shell took me by surprise. Later, I learned that it was the sound of 15 to 20 nuts hitting against one another inside the sturdy-looking shell.
"The Brazil nut is exclusive to the Amazon rainforest, meaning it's not a big production and you cannot grow it on a farm," he explained. "The Brazil nut tree is really tall, almost 60 meters, and it takes a long time for the nuts to grow. During the raining season, the shells fall on the ground and local people go to the forest to collect it."
The nut, in addition to the creamy flavor (that tastes even better with salt), has also been lauded for its health benefits. Rich in minerals and vitamins, but especially in selenium; in fact, the Brazil nut is the richest source of selenium, an antioxidant good for treating heart diseases, preventing cancer and raising body immunity, said Mr. Santos.
But you have to heed your daily intake of Brazil nuts. Being the richest source of selenium means that you can't go overboard with the amount of nuts you consume each day. According to National Institutes of Health, the Recommended Dietary Allowance (RDA) for selenium is 55 mcg, while an ounce of Brazil nut (6-8 nuts) contains as much as 544 mcg per serving. In order to avoid selenium toxicity then, make sure you won't take more than one nut a day.
As healthy as it is, though, Brazil nut sure loves playing hard to get. The fact that you cannot grow your own Brazil nut tree in the garden, makes a long, arduous journey into the Amazon forest a necessity. "It takes the locals sometimes two days just to arrive at the site," said Mr. Santos. "There is no roads and trucks, so they have to ride horses. After the locals collect the fallen shells, we buy them and process them at our factory."
His represented company has already established export markets in the European Union, Russia, Algeria, Peru, Japan, and Vietnam, and this is their first exposure to the 80-million Iranian market.
Lame as it sounds, I usually joke that we Iranians will go nuts for nuts, a claim that is easily backed up during our New Year festivities, where the main ingredient in almost everyone's household for hosting guests is a large bowl of all types of nuts mixed together, notably our own special brand of pistachios (also a beloved all across the world), as well as almonds, chestnuts, cashews, and peanuts.
I don't think the Brazil nut would feel like a stranger among Iranians.
"A lot of people came here [to our stand], looking very interested, and I hope we can have this product marketed in Iran in the next year," said Mr. Santos.
Brazil participated at IranAgroFood exhibition last year with 5 companies; now it's 11, showcasing Amazon fruits, beef, poultry, rice, coffee, peanuts, milk and vegetable oil, biscuit, candies, agricultural machinery and implements, and others.
The international advisor at the Brazilian Ministry of Agriculture, Livestock and Food Supply, Jucelino Moreira Bispo, said there were requests from 17 Brazilian companies to take part at this year's Iran AgroFood, out of which eleven were picked to represent Brazil's finest agricultural products at their small but efficient pavilion which stood across Spain's and China's pavilions at Tehran International Exhibition Center.
"It's my first time here, and I have already found the people very friendly, which is a huge difference in most places around the world…people arriving here at the pavilion, all smiles while talking, and sometimes we don't have all the answers they need at hand, but the feedback we have received so far has been great. We want to show the people that we don't want to just sell our products, we want partnership."
"It has been a pleasure being here," he went on add. "I had imagined it to be much harder, because we are two countries very far away from each other, with little to no knowledge of the other's culture and the people. But since we arrived here, we've felt at home."
"On the other hand, our expectations have been high. I've received such good feedback from my colleague who was here last year, and that's why we are here now with as many as eleven companies, some of which presenting products that are not even common in Iran, such as açaí. In the end, our experience here has met all our expectations."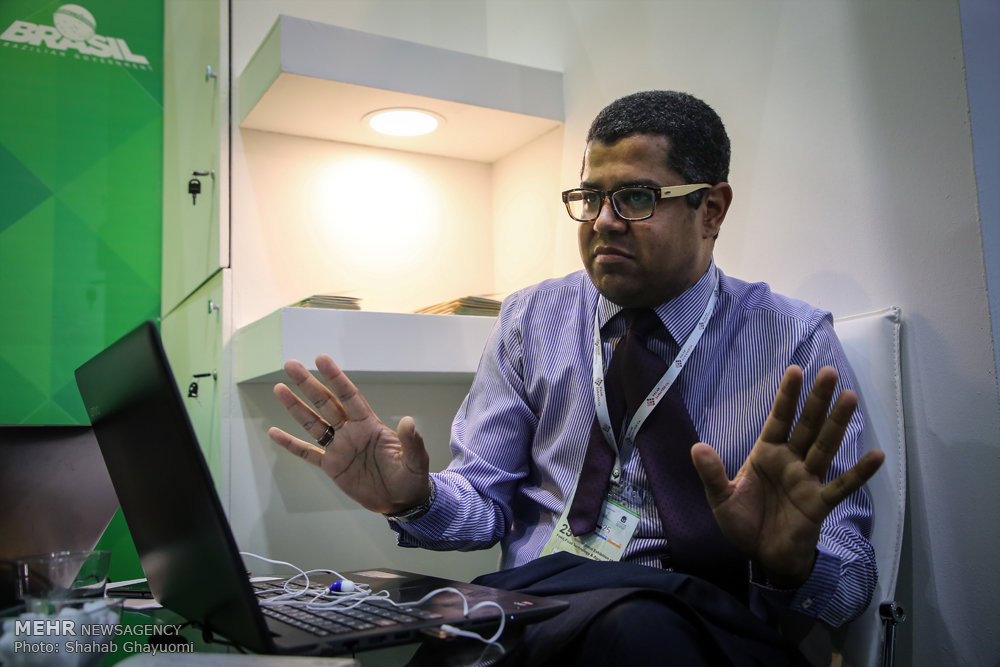 The number of participating foreign countries this year is surprising, considering the situation surrounding the US withdrawal from the 2015 nuclear deal, and Trump's decision to reinstate sanctions on Iran.
While Mr. Bispo was amicable enough to separate politics from business, the world in which the United States operates is not a follower of that philosophy.
As it stands, large banking transactions are still a major problem for Iran under the US sanctions that restrict or prohibit other countries from engaging or continuing to engage economically with the Islamic Republic.
Brazilian Deputy Minister of Agriculture, Livestock and Food Supply Eumar Roberto Novacki, who was visiting Iran on top of a Brazilian trade delegation last September, told Tehran Times that banking problems were the main barrier in the way of expanding trade between the two countries.
In addition to banking issues, the trade balance between the two countries has been tipping too much in Brazil's favor. According to head of Iran-Brazil Joint Chamber of Commerce, Kaveh Zargaran, Brazil's exports to Iran in 2016 accounted for $2.2 billion, while the value of Iran's exports to the South American country had been merely $75 million. About $50 million worth of Iran's exports was related to petrochemical products, such as fertilizers, $20 million were iron and steel, and raisin had a small share in Iranian exports to Brazil. While Iran has been falling behind on agricultural exports, Brazil has retained its position as a major exporter of food products, such as corn, sugar, soya, meat, and fruit juice concentrates. In fact, a large part of Iran's corn supply is provided by Brazil.
Zargran believed that a positive trade balance between Iran and Brazil was not feasible in the near future. Brazil is among the top countries in agricultural production. The country owes this advantage to its possession of vast water resources and low end prices for its agricultural products, whereas Iran is a semi-dry country with limited resources of water. According to Zargaran, foodstuffs account for about one fourth of Iran's total imports, which makes such large-scale imports from other countries almost inevitable.
Mr. Bispo had a more positive outlook on this matter, though; "I don't think Brazil believes in the policy of 'you lose, I win'. Brazil, through trade transactions, wants for other countries to grow and become richer, which in turn will also benefit us. We have a special focus on 'cooperation'."
The 25th Iran AgroFood, from 29 June to 2 July, welcomed 1,225 exhibitors from 29 countries showcasing their high quality products to more than 40,000 visitors from all over Iran and the entire region.
In addition to domestic companies and individual stands from Indonesia, Japan, Greece, Russia, and many more, 13 countries including Spain, Austria, Italy, Germany, Brazil, Thailand, Turkey, China, Denmark, France, Poland, Netherlands and India had their own official pavilions at the exhibition's venue covering over 75,000 square meters.
The International Exhibition of Food, Food Technology & Agriculture, simply known as Iran AgroFood, is considered to be the largest exhibition of its kind in the Middle East.