In a meeting with members of the executive board responsible for organizing the congress commemorating the centennial of Shahriar's birth, the Supreme Leader praised Shahriar as a great Iranian poet and said that honoring Shahriar is in fact honoring Persian poetry.
"Shahriar is one of the eternal personalities of Persian poetry," he added.
Elaborating on Shahriar's masterpieces, he said that Shahriar's poetry is a great heritage of Persian literature, even though Shahriar's mother tongue was Azari.
He recalled the mystical theme and wisdom of Shahriar's poems, citing his Azari language poem "Heydar Baba", in which Shahriar philosophically examined human existence and the nature of the universe.
Elsewhere in his remarks, Ayatollah Khamenei hailed the personality of the poet and said that he was faithful to God, maintained an independent attitude, and never bowed to the powerful.
He went on to say that Shahriar showed his dedication to Prophet Muhammad (S) and his Household in his poetry.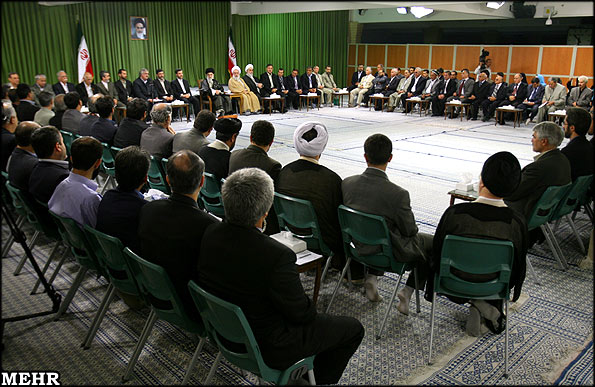 Seyyed Mohammad Hossein Behjat-Tabrizi (1906-1988), chiefly known by his pen name Shahriar, wrote in Persian and Azari.
Born in Tabriz, Shahriar came to Tehran in 1921 and continued his studies at the Dar ul-Fonoun high school and began studying medicine after graduating from Dar ul-Fonoun in 1924. But he fell in love, left his studies about a year before receiving his M.D. degree, and went to Khorasan. He returned to Tehran in 1935 and started working in the Agricultural Bank of Iran.
Shahriar published his first book of poems in 1929, with prefaces by Mohammad Taghi Bahar, Saeid Nafisi, and Pejman Bakhtiari. His poems are mainly influenced by Hafez. His most famous poem, "Heydar Babaya Salam", is considered to be among the best modern poems in the Azari language and has been made into a few plays.
RS/HG
END
MNA