Organized by Iran Silk Road Company, the 'I run Iran' marathon started near the historical city of Shiraz on Saturday April 9 with the finish line at Naqsh-e Rustam, an ancient necropolis located about 12 km northwest of Persepolis, in Fars Province, Iran. A total of 150 participants from 35 different countries ran and celebrated together while getting acquainted with the Persian culture and history.
Iranian runners claimed the top three titles of the event which covered a distance of 42 kilometers as Farzollah Rostami of Qazvin Province (2 hours and 43 minutes), Mahmoud Faraji of Razavi Khorasan (2 hours and 48 minutes) and Abdolrahman Mirzaei of Alborz Province (2 hours 56) ranked first to third.
The event's organizer, Sebastiaan Straten is a 42-year-old Dutch entrepreneur who first travelled to Iran in 2005. He has dedicated his life to create better relationships between Iran and the West. His visit brought him to the idea of launching the first Iran Marathon event in the ancient country. In an exclusive interview with Mehr News Agency, Sebastian Straten answered the following questions on the event:
What were the main goals of the marathon event and did it meet all its objectives?
International friendship, show young Iranians and children that run is fun, Show the beauty and culture of Iran. YES, YES, YES!
How was it received by the public and the athletes?
Great! Amazing, so many positive reactions were received. So many people from Marvdasht city were cheering along the road to support the runners. Athletes were overwhelmed by the enthusiasm of the crowd. Iranians have shown that they want international peace and friendship during the marathon.
What comes next? Will the project continue? What are the prospects of I Run Iran?
Yes, we want to continue to work with Athletic Federation of Iran to organize the Shiraz marathon every year and to organize it in other cities. The ultimate challenge would be to organize it in Tehran. But also Tabriz and Esfahan are possibilities.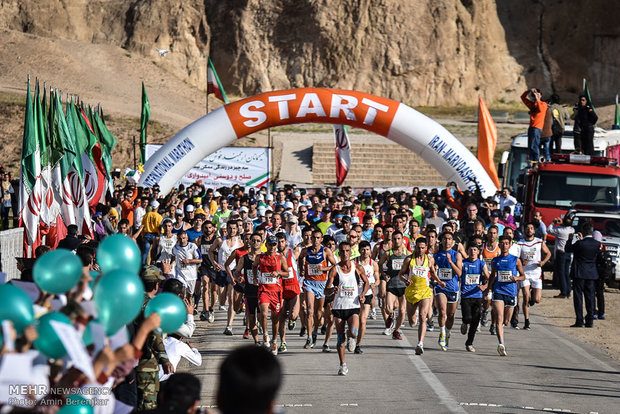 How much did the marathon help introduce the Iranian culture to the world?
It was an excellent way to show the Iranian culture to the world. Naqshe Rostam, Takhte Jamshid, the friendly people along the way. Also our four-day program in Shiraz for runners and participants was a success. Athletes and participants were completely satisfied with this amazing experience.
Has the event had any international impacts?
Let us see what happens. Iranian media can help to send out the message of international friendship by running together towards the same goal: Peace!
Sebastiaan Straten is a Dutch entrepreneur who first travelled to Iran in 2005. With his Iran Silk Road Company he invests in tourism, organizes tours and special events like the first Iran marathon. His main goal is to revive the old Iran Silk Road as a place where travellers meet.
More info on and registration at the 2017 Iran marathon can be achieved at www.iruniran.com
Interview by Mohammad Hosein Azari