A group of children, theater experts, several artists and musicians attended the ceremony which was organized by Shahrzad monthly magazine.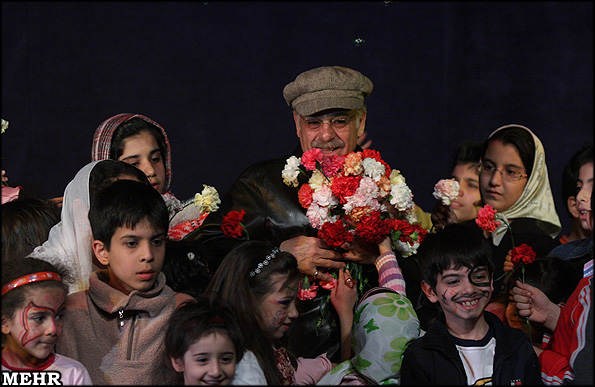 Babak, who was delighted to be with children once again, was the first to make a speech, saying, "The play 'Miss Sun, Rise' was the first drama I wrote for children 35 years ago. I worked for children and young adults in theater and television for many years."
"The plays we performed then were 30 years ahead of their time -- this was probably because we were the pioneers. Of course, good works are also being produced for children now," he added.
He went on to say, "Whatever we do for young people, it is still not enough. Children are honest and simple. We must expend a lot of energy on them. We should have a city full of oxygen for them, since they will carve our future. We must give them a green jungle and a blue sea, as they are to be the men and women of our future."
Kashefi, managing director of the monthly, was the next speaker who read aloud a letter written by children to Babak, "Hello, Mr. Babak. We love you. We and our parents like you, your plays and your TV series. Mr. Babak, you are very funny!"
Afterwards, the children went onstage with bouquets of flowers which they handed to Babak, who was overcome by their happiness, and said "I have never been drowned in flowers like today -- children are life's flowers, we must take good care of them."
Playwright Manuchehr Akbari, also participating in the ceremony, made a short speech, telling parents, "Take children to watch plays as much as you can and afterwards talk with your children about the performance. This will help your children's minds to develop and they will learn how to analyze better."
The ceremony ended with live music played by the Namavaran band and a puppet show performed by children.
RM/MA
END
MNA