The performance of Faghani and his two Iranian assists, namely Reza Sokhandan and Mohammad Reza Monsouri, in Germany-Mexico match was praised by both the public and the refereeing expert.
In an interview with ILNA News Agency on Monday, Faghani expressed happiness regarding the satisfaction of Iranians regarding his team's performance in the 2018 World Cup.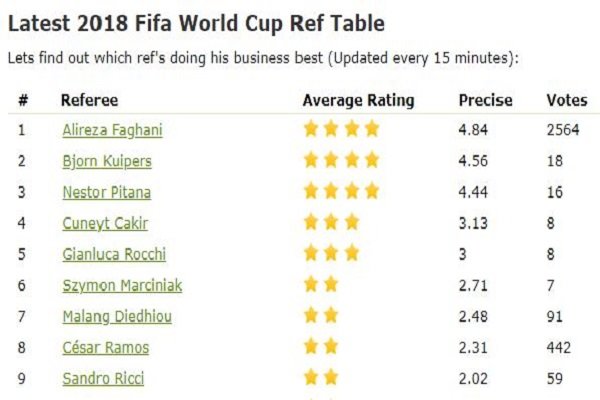 When asked about his being at the top of mentioned rankings, Faghani said, "these rankings are not important for me and I just do my job. We try to do our best in each match and do not care about other issues."
He went on to say that they are recovering from last night's match and will wait to see whether FIFA would chose them for another match or not.
Born in 1978, Alireza Faghani has been on the international list of referees since 2008 and has officiated important matches like 2014 AFC Champions League Final, 2015 AFC Asian Cup Final, 2015 FIFA Club World Cup Final and 2016 Olympic Football Final.
MAH