The 1st Tehran International Marathon convened in the Iranian capital on Friday 7th of April 2017 with participation of over 350 runners from more than 42 countries. TehRUN 2017 aimed at building bridges and breaking barriers.
The full marathon started at Azadi (Freedom) Stadium, and passed by the iconic Azadi Tower, a prominent structure during rallies in the 1979 Islamic Revolution. Other landmarks along the route included Ferdowsi Square, built in honor of the famous Persian poet, and the Tehran City Theatre along Valiasr Street, one of the longest avenues in the Middle East.
In an exclusive interview with Mehr News Agency, Sebastian Straten, a 42-year-old Dutch entrepreneur who first travelled to Iran in 2005, answered the following questions on the event:
What were the main objectives of the second marathon event and did it meet all its aims?
Main objective was to build a bridge between Iran and the rest of the world. By having runners from many different countries participate. To break barriers that international politics have created. Another goal was to show a young Iranian generation that to run is fun and gives positive energy.
Over 442 runners from 45 countries participated in this second I run Iran event. That is a good start. Unfortunately, most American and many UK runners did not get their visa. That was a missed opportunity by local authorities and Iran Athletic Federation to show Iran is different from American politics. Many motivated runners that prepared months to participate were not granted visa. It was a shame that they were not granted visa and they were not informed properly about it.
We succeeded in having female runners officially participate in one of the distances of this event. First steps were made towards full participation. Because men and women are equal and deserve the same rights. A young generation of Iranian boys and girls will hopefully follow in their footsteps.
Given that the first marathon took place in Shiraz, did you have any specific reasons for choosing Tehran as the venue for the second edition?
To get more attention to a bigger audience to promote street running. Also to show that it is possible to organize an international street running event inside an enormous city with millions of inhabitants and cars. For half a day Azadi square was the domain of healthy runners not polluting cars. And local police and traffic control did a great job in safety.
How was it received by the public and the athletes? Was it any better than the earlier edition?
It is hard to compare them. the First Tehran International Marathon was very special to the runners and I think photos show that they had a good time. Unfortunately, it was held very early in the morning on a Friday and there were few Tehrani along the way to cheer for them. At Marvdasht/Persepolis last year the local people were amazing to show their support and enthusiasm! The Pars people are known for their warm hospitality and they proved it.
What difficulties (if any) did you face on the way of organizing the event? Will you continue the project?
All kind of difficulties. It was a big challenge. The most difficult part was to persuade Mr. Keyhani, head of Iran's Amateur Athletic Federation (IRIAAF) to assist with organizing the marathon. Strangely enough he was not interested in it at first. But finally by the help of the Ministry of Sport and Youth Affairs we could do it. Even close to the start Mr. Keyhani tried to sabotage the project and his sponsors were far more important than the runners. He does not seem to be the right person to work together with foreign partners to build international relationships. I look forward to cooperate with the ministry of Sport and Youth affairs to promote and organize international sport events in Iran.
How much did the marathon help introduce the Iranian culture to the world?
By organizing this event Iran has shown that it is part of the world. Runners from 45 countries got to know the Persian culture and excellent food of Iran. They have made this the most international sport event inside Iran in many years. Persian culture is very strong and Iran has a great history. But Persian pride should not be in the way of cooperating with foreign partners like Iran Silk Road. It is important to give credit to those who deserve credit. The only way to show the beauty and importance of Iran to the rest of the world is to build bridges not walls. And every bridge needs pillars on both sides.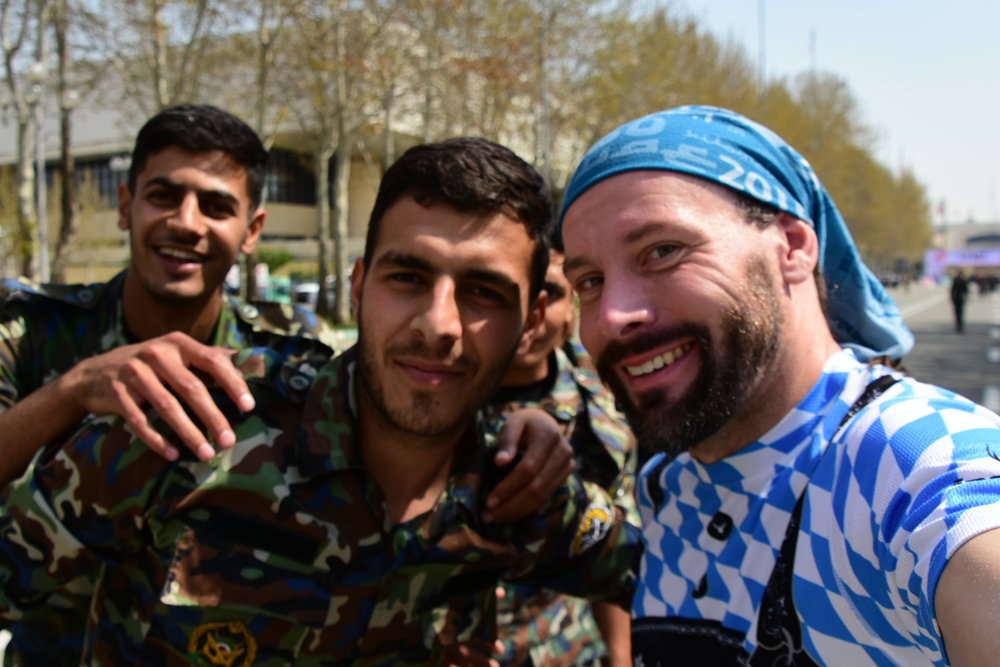 Has the event had any international impacts?
Too early to say!
The 1st Iran marathon at Persepolis was nominated by SPIA for best Amateur Sport Event of the middle East 2016. How did you feel about this and what does the nomination mean to you?
It was an honor to be nominated with the 1st International Marathon of Iran at Persepolis (Marvdasht) in 2016. We hope to win with the 1st Tehran International Marathon at the SPIA 2017 next year!
Sebastiaan Straten is a Dutch entrepreneur who first travelled to Iran in 2005. With his Iran Silk Road Company, he invests in tourism, organizes tours and special events like the first Iran marathon. His main goal is to revive the old Iran Silk Road as a place where travelers meet.
Interview by Mohammad Hossein Azari