A thin, bearded man who always carries a marker in his pocket in order to start drawing when having something stuck in his head and finding a blank wall or a piece of paper. Sometimes he is forced to leave immediately after drawing on the wall so as to escape punishment. Because once he was drawing a cartoon on an ATM machine, when the security guard catches him red-handed. In the interview, he talks so fast that you must prick up your ear to grasp his words otherwise he is not so uneasy to dodge answering questions. So bombarding him with questions, we receive one sentence: "Ok! Next!"
I didn't sleep whole night because of A4 paper
Majid Khosro Anjom comes from Navab Street in downtown Tehran. He was born on 10 November 1978 and has an MA in Industrial Design from Tehran University of Art. When he was 15, one interesting event involved him in the world of caricatures and he has been stuck there since then: "Perhaps you would never understand this issue at all, however when I was a child, there was no A4 paper. We used to draw on low-quality notepads of thin papers. During those days the situation of paper industry was so bad that top students were being awarded good quality notepads and notebooks. One day, my father brought five A4 papers home. I mean five white blank objects with no pins attached to them. Maybe you wouldn't believe it. I was so excited that I didn't sleep whole night. I remember putting them beside each other and staring at them."
"I drew my first caricature on one of them. A man who had participated in Athletics competition, and reaching the finish line, had won by extending his tongue." Keyhan Caricature, Gol Aqa, and Soroush Nojavan were magazines that Khosro Anjom used to follow them in his teens, but when not having enough money, he was forced to skip buying them. "Gol Aqa was a more general magazine, and more popular among the public. Keyhan was so expensive. In those days, Soroush Nojavan which cost 7 Tomans increased to 10 tomans and I couldn't buy it. Then Keyhan Caricature was 15 tomans."
I drew the caricature of my teacher
Cartoon is an inevitable part of Khosro Anjom's personality so as to consider the margins of his books as a notepad while studying. Besides, whenever he gets bored in the class, this personality propels him to draw the specific gestures of his teachers. "Once I drew the caricature of my Arabic teacher. He had said that if I drew his caricature, he would add 2 points to the grades of all my classmates. I drew his caricature and submitted to him. At last, he kept his promise, however, decreased my grade by 10 points." Mr. cartoonist published his first work in "Comic and Caricature" magazine when he was a pre-university student and was preparing himself for the 1995 university entrance exam; hence he took the first step toward professionalism in his seventeenth. But he remained silent and didn't show it to anyone. However, his sister bought all the magazines of their neighborhood newsstands and publicized his brother by distributing them among relatives and friends. As a university student, he participated for many times in international caricature competitions and tried his luck. "On those days, Internet was different. We used to search those competitions for fun and then participate in them. Many of Iranian artists were acting the same way. For example, Olense Kartoenale Cartoon Contest in Belgium which was attended by 300 Belgians, 200 Dutch, 20 British, and 1 African, had 780 Iranian participants."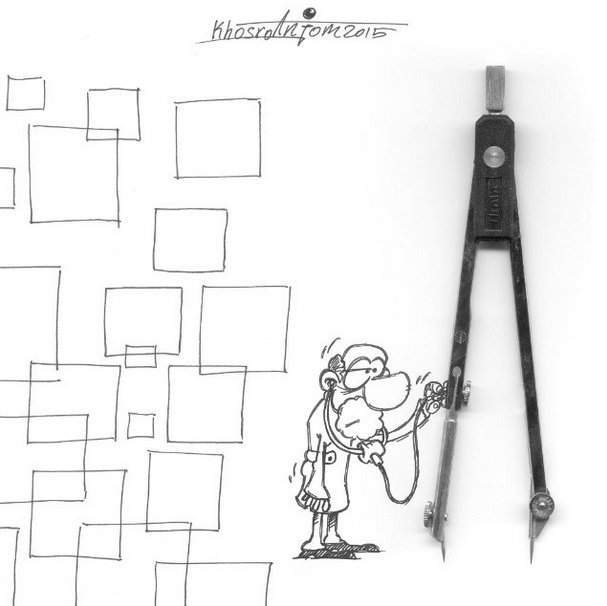 One official called and thanked me
Khosro Anjom is not interested in drawing the caricature of political figures. However, sometimes starts drawing social and semi-political caricatures in his own style. Majid Khosro Anjom gained his reputation for 2 caricatures. The first one was "Father's Day" and the second was "Dust in Khuzestan" both of which went viral in social networks and media so as to one official called and thanked him for "Dust in Khuzestan".
The "Father's Day" is the most favorite caricature of Mr. cartoonist. "Before this, I couldn't select one among my works, but after this I can." This caricature which was published without signature faced some problems. The problems that made him to publish his works with signature afterwards. However, caricature is not the only filed of Khosro Anjom's activities. Several years ago, he began radio broadcasting through a one-minute item. Then he became the writer and chief editor of a very popular radio program called "Max 95". Through this program, many of radio listeners heard, for the first time, the name of Majid Khosro Anjom.
I used to draw on the walls of my house
It's interesting to know that following the filtering of a social network, Khosro Anjom stops his activities on it and moves to Instagram which actually is the most favorite social network of Mr. cartoonist and has contributed to his reputation. Now his page has more than 34,000 followers who expect new works and he reads carefully all their comments. "At first I was sharing all kinds of photos. But my audiences were not accepting and were requesting new works. I did so." Khosro Anjom's designs are unique and this special style makes you remember him even if you see his works without signature. "At the beginning, I used to take photograph of my finger and palette. One friend niggled me by asking why my finger could be seen in all the photos. After hearing the comment, I became interested in using my fingers and an external object in my works. Then I continued my style of using real objects that was appreciated. Other artists usually use real objects out of their real identity and reality; for example they use a real orange and draw some lines around it as sun. But I use the objects in their own reality."
Caricature is such an important part of the artist's life that once travelling to a friend's house, he was forced to cut the blank pages of the books there in order to draw a caricature in his mind and take its photograph. The walls of his house were full of his artworks; however after painting the house, his wife took him this permission!