The feature-length documentary includes interviews with cast and crews of Kiarostami's films including Bahman Qobadi, Hossein Yektapanhah, Mohammadali Keshavarz and Farhad Saba and also interviews conducted with other cineastes and cinema critics, she mentioned.
"I also plan to produce an episodic film which focuses on actors who played roles in Kiarostami's films and the impact of his films on world cinema," she added.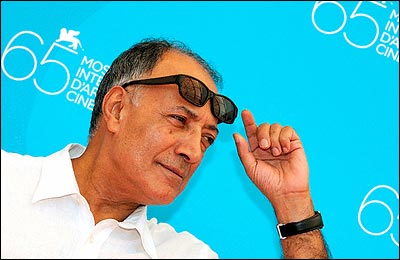 Iranian director Abbas Kiarostami poses for photographers during a red carpet event at the Venice Film Festival on August 28, 2008.
She went on to say that she has conducted several research investigations during previous four years for the production of the documentary.
"We may also have to travel to foreign countries to shoot some parts of the documentary, using the same locations as in Kiarostami's films," she mentioned.
As the producer and cinematographer of the film, she mentioned that the shooting would continue until April 2009.
"The wide range of Kiarostami's cinematic activities makes producing the documentary a long drawn out process," she said.
She is now completing "Trees of Kiarostami", a documentary on the notion of a tree in Kiarostami's artwork.
Ney Publications will also publish the interviews that she conducted with the casts and crews of Kiarostami's films and 25 screenplays of his films.
She has previously produced several documentaries including "All of us should die", "Beneath the Olive Trees" and "The Earth is quaking".
Abbas Kiarostami is an internationally acclaimed Iranian film director, screenwriter and film producer. Kiarostami has been involved in over forty films, including shorts and documentaries.
He is also a poet, photographer, painter, illustrator, and graphic designer.
SB/YAW
END
MNA