"As I embark on a new journey, there are many memories I will hold on to with great joy," the long-time serving Portegues coach of the Iranian national team known as Team Melli said in a post on his Instagram page on Tuesday.
"I'd like to share my gratitude to my great players in Team Melli. To all my loyal Iranian staff, to the Football Federation and everyone who supported me and the "Team Melli Legacy"" he added that in his post which is written in both Farsi and English languages.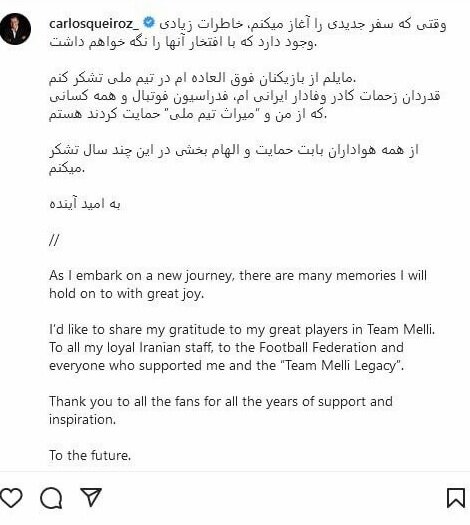 "Thank you to all the fans for all the years of support and inspiration," he added, concluding "To the future."
Queiroz headed Iran in the 2022 FIFA World Cup, where Team Melli suffered two defeats against England and the U.S. and earned a win over Wales and failed to book a place in the knockout stage, a report by Tehran Times said.
The Portuguese coach's contract ran out after Iran failed to qualify for the World Cup knockout stage.
He used to serve as the Team Melli head coach between 2011–2019.
MNA