Chaharmahal and Bakhtiari Province is located at high altitude of the Iranian plateau, in Zagros Mountains. Due to heights and receiving a considerable amount of snowfall, as well as its topographical conditions, the province is home to numerous natural tourist attractions in the form of rivers, jungles, waterfalls and so on.
Snow-capped heights of this province are where a lot of springs and rivers stem from, giving birth to two of the longest rivers in Iran, namely Karoon and ZayandehRood. Every year approximately eleven billion cubic meters of water flow to Isfahan and Khuzestan provinces via these rivers.
Chaharmahal and Bakhtiari Province has fascinating waterfalls the most famous of which include Sheikh Alikhan Waterfall, Kuhrang Tunnel Waterfall, Atashgah Waterfall and Dareh Eshgh.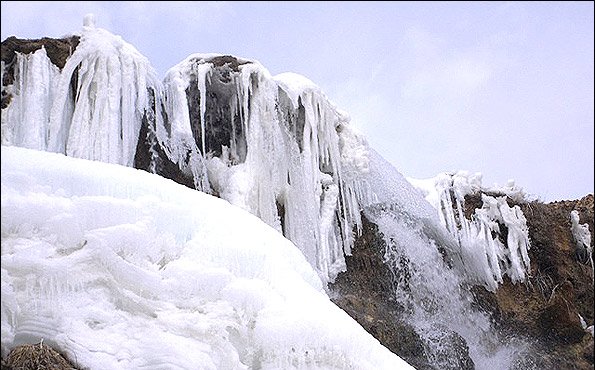 The Sheikh Alikhan Waterfall is a natural attraction of the Kuhrang County, 9 km Northwest of Chelgerd, about 90 km from Shahrekord in Chaharmahal and Bakhtiari Province. It's part of a comparatively intact part of Iran for hiking, bird-watching and sight-seeing and attracts a large number of tourists every year in all seasons.
Currently, snow has covered the whole region, turning it into a breathtaking purely white attraction site.
MS
MNA
END
2456070