In a tweet on Monday, Mohammad Javad Zarif described Israeli prime minister as the "boy who can't stop crying wolf" after Netanyahu delivered a televised address in which he accused Iran of violating the JCPOA by repeating old allegations.
"Undeterred by cartoon fiasco at UNGA. You can only fool some of the people so many times," Zarif wrote in a tweet, referring to Netanyahu's 2012 address to the United Nations in which he unfolded a cartoonish diagram showing three stages that Iran would need to go through to obtain nuclear weapons.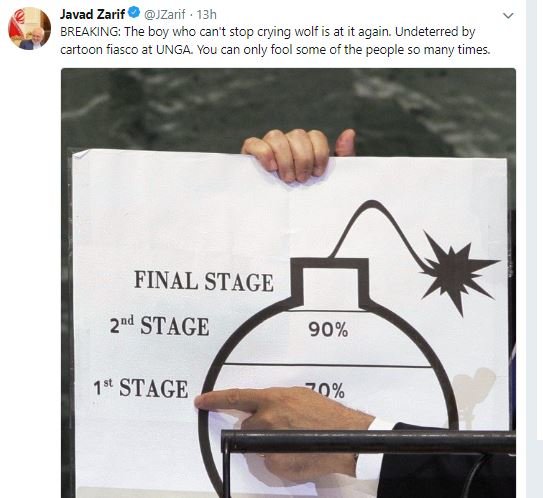 In a separate tweet, Zarif noted that the 'convenient' timing of Netanyahu's address on Monday had been planned with the US in order to affect the May deadline for Iran nuclear deal.
"Pres. Trump is jumping on a rehash of old allegations already dealt with by the IAEA to "nix" the deal," Zarif said.
"Coordinated timing of alleged intelligence revelations by the boy who cries wolf just days before May 12. But Trump's impetuousness to celebrate blew the cover," he added.
Trump will decide whether to extend waivers of economic sanctions on Iran, a US commitment under the nuclear agreement, on May 12. The US president has been aggressively railing against the JCPOA, calling it the "worst deal ever". The European sides to the deal, however, have been making efforts to keep Trump in the agreement.
MS