Iran's Foreign Minister Mohammad Javad Zarif and his French counterpart Jean-Yves Le Drian discussed issues of mutual interest in a meeting in New York.
During the Wednesday talks held on the sidelines of the 72nd UN General Assembly, Zarif and Le Drian conferred on bilateral relations between Tehran and Paris.
They also exchanged views on regional issues, particularly the referendum on Iraqi Kurdistan's independence, and underlined the necessity of maintaining Iraq's territorial integrity and respecting the Arab country's Constitution.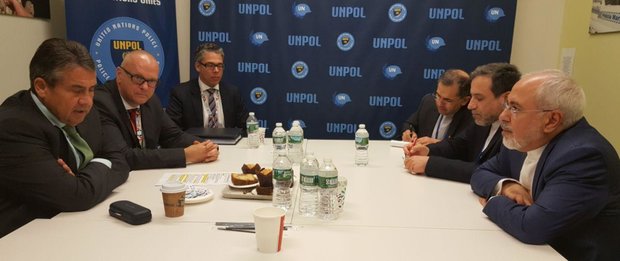 Also on Wednesday, Zarif held talks with his German counterpart Sigmar Gabriel, during which the two sides discussed bilateral and regional issues, especially the Iraqi Kurdistan region's independence referendum and the nuclear deal between Tehran and world powers.
"Supporting the JCPOA and the need for all parties to remain committed to this multilateral and international agreement has always been Germany's transparent stance," Gabriel noted.
The two top diplomats also stressed that any damage to the deal would send a bad signal to the international community and cause distrust of any international negotiation and deal.
MS/PR