The contract was signed on Wednesday in Tehran between Iran's Minister of Roads and Urban Development Mehrdad Bazrpash and Russia's Minister of Transport Vitaly Savelyev.
Iranian President Ebrahim Raeisi was present in the ceremony where the contract was signed while Russian President Vladimir Putin attended via a video conference link.
The 162-kilometer railway will connect the city of Rasht, near the Caspian Sea, to Astara on the border with Azerbaijan. Once completed, the rail link will allow rail freight transport from the Persian Gulf to Helsinki in Finland via Russia's Saint Petersburg.
Rasht-Astara railway to benefit all regional countries
During the ceremony, Raeisi described the signing of the contract on the Rasht-Astara railway as "a major and strategic development" in cooperation between Iran and the Russian Federation.
Raeisi thanked Putin for his support for the project and said that the completion of the INSTC would benefit not only Iran and Russia but all countries in the region.
The economic position of the Islamic Republic will be strengthened in the region and the world through the implementation of the North-South Corridor.
Saying that Iran and Russia enjoy high economic capacities, Raeisi said that the two nations will strengthen these capacities seriously.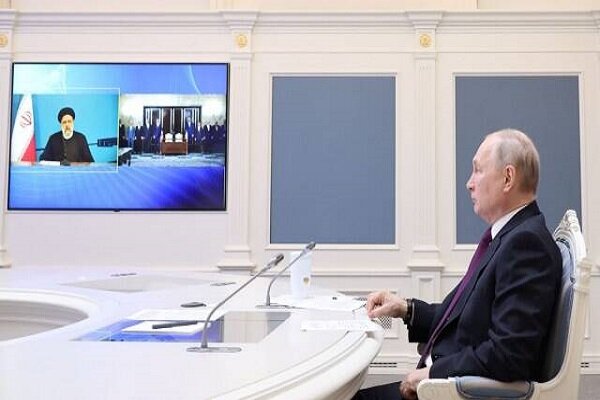 Putin thanks Leader for supporting Iran-Russia ties
Speaking at the ceremony via videoconference, Putin said that the Rasht-Astara railway will allow for a change and diversification of global transportation routes.
He said the INSTC corridor will play a major role in guaranteeing food security in Iran and countries in the Persian Gulf region.
The Russian president said relations between Russia and Iran are at their highest level, adding that Moscow pays special attention to ties with Tehran.
Putin also thanked the Leader of the Islamic Revolution Ayatollah Seyyed Ali Khamenei for his support for the growing ties between Iran and Russia.
"I would like to emphasize that the unique North-South transport corridor, of which the Rasht-Astara railway will become a part, will help to significantly diversify global traffic flows. Transportation along the new corridor will have significant competitive advantages," Putin said.
Moscow hopes that the agreement between Russia, Iran, and Azerbaijan on cooperation in the development of railway and cargo transportation will be signed promptly, Putin added.
RHM/PR