Iranian President Hassan Rouhani held talks with Speaker of the Parliament of Lebanon, Nabih Berri, on Sunday in Tehran, during which he hailed the strong friendly ties between the two nations.
Rouhani commended Lebanon's efforts in resisting against Israeli aggression and helping with the establishment of peace and security in neighboring countries.
"The victories of Hezbollah, the army and the people of Lebanon against aggressors are good news for the Iranian nation and bring pride and glory to all Muslims and friendly countries," said Rouhani.
He also deemed unity among Shias, Sunnis, and Christians in Lebanon as a model for unity in pluralist societies, adding "today, the people of Lebanon view Hezbollah and the army as a security-building power."
The Iranian president further expressed hope that cooperation and relations between Iran and Lebanon would be developed in various political, economic, and cultural and security fields.
For his part, the Speaker of the Parliament of Lebanon, deemed President Rouhani's inauguration as the celebration of democracy in the Islamic Republic of Iran, adding "the unprecedented voter turnout in Iran's presidential election demonstrated the Islamic Republic's power to the entire world, especially the US and countries that seek to undermine Iran."
He further voiced strong support to Iran in resisting against hegemonic powers.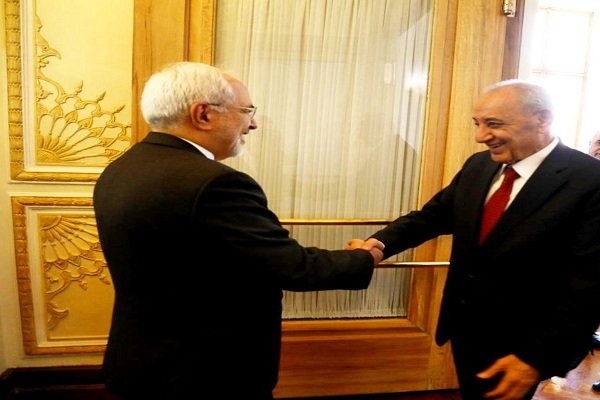 Nabih Berri also attended a meeting with Iran's Foreign Minister Mohammad Javad Zarif, during which he hailed Iran for its commitment to principles and its continuous efforts toward the settlement of various issues through dialogue.
Zarif, for his part, congratulated Lebanon on the recent victories of its Army and Resistance Movement against the terrorists, saying that Lebanese people are the embodiment of resistance to the world.
The two sides further conferred on regional issues concerning Syria, Iraq, Astana peace process, the Persian Gulf issues, and the JCPOA.
MS/4051324/4051272