The demonstration was called by the Friday prayer leader Maulana Syed Mohammad Kazim Shabib. Hundreds of protesters chanted slogans against the regime of Saudi Arabia and in solidarity with the Martyr al-Nimr.
District Administration officials and senior police officers were also present at the Nawab Mohammad Taqui Khan Waqf Estate ground where these protests were organized. Maulana Shabib and other clerics Maulana Syed Gulzar Hussain, Maulana Syed Tahir Ali and Maulana Syed Assad Yawar, Maulana Syed Aqeel Abbas were also present at the protest march and condemning this brutal murder by addressing a brief speech there.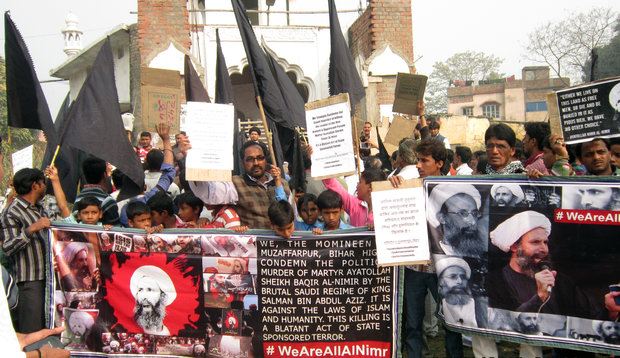 The scholars also expressed concerns to recently killings of Nigerian Shias in Zaria region under the leadership of Ayatollah Sheikh Ibrahim al-Zakzaky, whose fate is still unclear nearly a month after the attacks. To lodge there opposition, the leaders of the protest also submitted a memorandum to the officials. In their memorandum of demands they have demanded that India and international community should raise this issue of human rights violation in Saudi regime at every international forums so that no other innocent person could be killed in this 'ISIL-styled' manner.
Maulana Shabib told in his speech that Saudi dictatorial regime has been unleashed a broad game plan to exterminate the popular aspirations of people across the West Asian region. He stated that ''the unjust killing of Sheikh al-Nimr is a step forward in this chain of events.''
''After the Arab Spring, the monarchical demagogues have initiated a program to create a rift between Shia and Sunni to secure their own regimes across the region. That is why they have fuelled the flawed notion of 'Shia Crescent'.''
HR/PR