The first step has been taken by making cases for four of them being kept at Zanjan's
Zolfaqari
Museum
in a critical condition, the Persian service of CHN reported on Monday.
Six salt men, known as Iranian mummies, were discovered over the past 12 years at the Chehrabad Salt Mine around a place, which is surmised to be a collapsed tunnel built by the Achaemenids and was also in use during the Sassanid era.
The salt mine is located in the Hamzehlu region near Zanjan.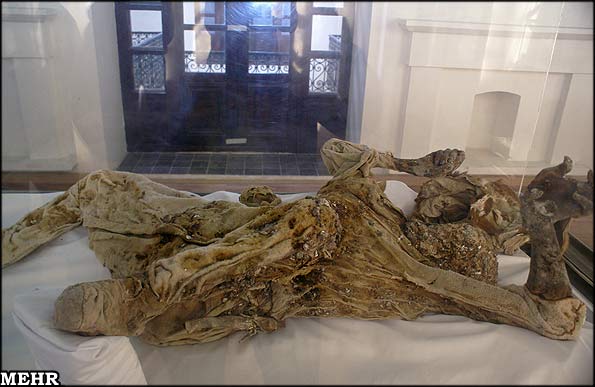 The Fourth Salt Man, which dates back to the Achaemenid era, is on display at Zanjan's Zolfaqari Museum.
"A contract has been signed with a private company to make four cases, which will be equipped with an anti-moisture system," director of the archaeological exactions at the Chehrabad Salt Mine Abolfazl Aali said.
The company is currently making the cases, he added.
"The cases, which are being made of glass and metal, will be very rigid. They will also be equipped with devices to control the vacuity of the space," he explained.
The salt men are currently kept in plexiglass cases, which are not hermetically sealed. Changes in air temperature and pressure have created cracks in the cases, allowing bacteria and insects to enter and damage the mummies.
The First Salt Man, which is kept at the National Museum of Iran, was discovered 12 years ago. No change can be seen on it.
The Sixth Salt Man was left in-situ due to the dearth of equipment necessary for its preservation in Iran.
MMS/YAW
END
MNA