The Iranian Foreign Minister Mohammad Javad Zarif has posted a message on his Twitter account to condemn a terrorist attack in southeast Iran, which killed 2 and injured several others.
Zarif has held foreign-backed terrorists responsible for the latest deadly crime, writing "as we've made clear in the past, such crimes won't go unpunished."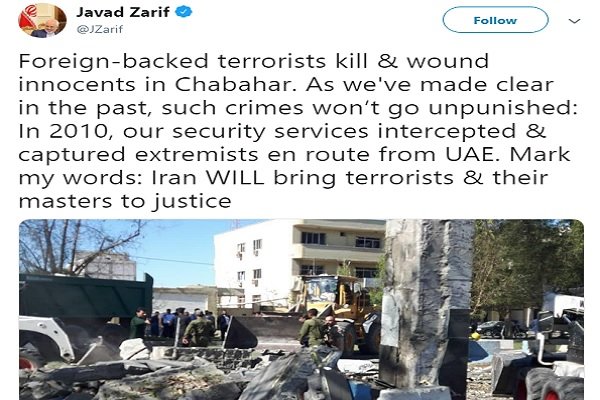 He pointed to similar previous terrorist incidents in the same province of Sistan and Baluchistan, in which Chabahar port city is located, saying "in 2010, our security services intercepted and captured extremists en route from UAE."
Zarif referred to the capture of terrorist ring leader Abdul-Malik Rigi in 2010 by the Iranian security forces when he was flying over the Persian Gulf en route to Kyrgyzstan. He then was executed for conducting terrorist acts inside Iran.
Sistan and Baluchistan province on the border with Pakistan has witnessed several dealdy terrorist attacks over the past decade by foreign-backed terrorist groups based in Pakistan.
In the latest attack in early October, as many as 12 Iranian border were abducted by Pakistan-based Jaysh al-Adl terrorist group and were taken across the border into Pakistan. Although five of them have been released so far through diplomatic efforts of Iran and Pakistan, the rest are still held captive there while the efforts are going on to secure their release.
At the end of his post, the Iranian foreign minister made it clear that "Iran WILL bring terrorists and their masters to justice."
MNA