The Leader made the remarks in Tehran on Sunday during a meeting with a number of Muslim scholars who were attending the 24th International Islamic Unity Conference.
The Leader said, "Today, the Egyptian people… are on the scene and must remain vigilant so that the enemies do not misdirect their revolution and bring to power a person linked to the regime of the Egyptian pharaoh (Hosni Mubarak)."
Kamal al-Halbawi (R), a senior member of Egypt's Muslim Brotherhood, clasps hands with the Supreme Leader.
In the first place, it is the responsibility of the Egyptian people, including scholars and intellectuals, to safeguard the revolution, he stated.
Secondly, it is the duty of the Islamic ummah to thwart the efforts to hijack the revolution, he added.
Elsewhere in his remarks, the Leader said the enemies are attempting to deny the Islamic nature of the uprisings in Egypt, Tunisia, and other Islamic countries.
The Islamic world is now at a critical juncture because if the recent developments are not understood properly, this will create new problems for Muslims, he observed.
The Leader also called the United States the "main problem of the Islamic world."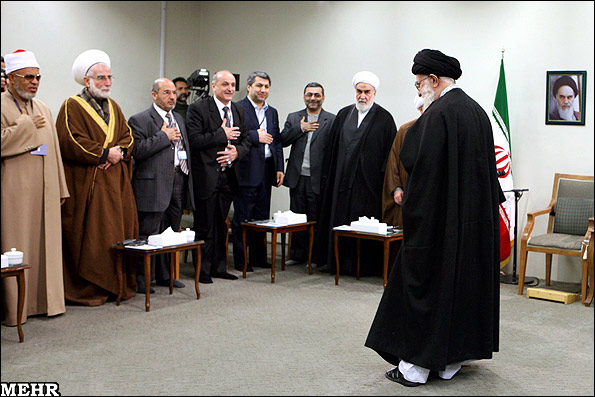 The Islamic Unity Conference opened in Tehran on Saturday and closed on Monday.
Iranian Minister of Culture and Islamic Guidance Seyyed Mohammad Hosseini delivered a speech during the closing ceremony of the conference.
Over 200 scholars from 57 countries attended the conference, which was organized by the World Forum for Proximity of Islamic Schools of Thought.
EP/HG
END
MNA