The prime minister said he thought a value loaf of supermarket white bread cost "well north of a pound", and then defended his ignorance of the correct price by saying he preferred to bake his own.
He stumbled over the question on the London radio station LBC 97.3, putting the Conservatives under further pressure over their response to squeezed household budgets.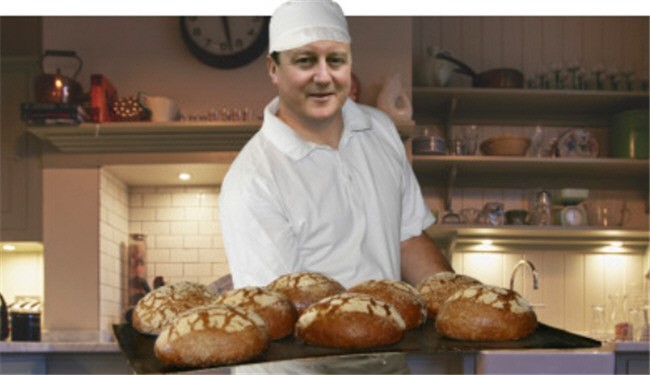 Huffington post's ironic depiction in reaction to British prime minister's claim that he has a breadmaker
David Cameron, 46, the British coalition prime minister, who attended elitist Eton College, Oxford, said that "I don't buy the value sliced loaf, I've got a breadmaker at home which I delight in using and it turns out in all sorts of different ways," he said. "But you can buy a loaf in the supermarket for well north of a pound."
Told by presenter Nick Ferrari that the true cost was about 47p, he added: "Look, I'm trying to get my children to eat the sort of granary – and they take it actually, they like my homemade bread.
"A little plug for the flour made in my constituency – Cotswold Crunch – you get some of that, beautifully milled in the Cotswolds (southern London), you pop that in your breadmaker. You set the timer overnight so when you wake up there is this wonderful smell wafting through your kitchen.
The revelation came after the mayor of London, Boris Johnson, admitted he did not know the cost of a pint of milk.
Source: The Guardian
MNA
END