The opening was attended by Director of Iran's Islamic Dissemination Organization Hojjatoleslam Mahdi Khamoushi, Tehran's ambassador to Malaysia Mohammad-Mehdi Zahedi, Guardian Council jurist Mohsen Esmaeili, local officials, the Kuala Lumpur-based Iranian media, and Iranian citizens residing in Malaysia.
Speaking at the inauguration ceremony of the office, MNA Director General Parviz Esmaeili highlighted the importance of Malaysia in the region and stressed the need for the expansion of cooperation between the two countries.
Media outlets build bridges between nations and haven an influence on governments' future diplomacy, he added.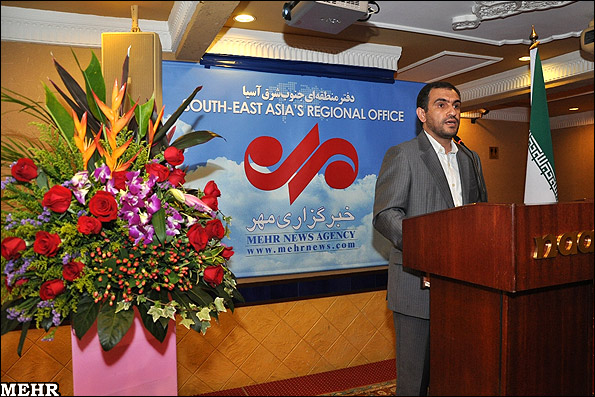 Iran and the Southeast Asian countries have great economic, scientific, and cultural potential, which can be realized through strengthening bilateral ties between Tehran and Kuala Lumpur, Esmaeili stated, emphasizing that a deeper mutual understanding would serve the interests of the two nations.
Khamoushi said ASEAN with a population of more than 500 million - over half of them Muslim - has always been of great political and economic importance to Iran and the Islamic world.
Malaysia, Indonesia, the Philippines, Singapore and Thailand, Brunei, Burma (Myanmar), Cambodia, Laos, and Vietnam are the ten members of the Association of Southeast Asian Nations.
Khamoushi also said Malaysia with a sixty percent Muslim population has a great potential in strengthening unity among Muslim nations.
He also expressed hope that MNA would play vital role in promoting cooperation between Iran and the ASEAN members through news coverage of the region.
SN/PA
MNA
END