Worshipers in Tehran marched in front of the University of Tehran, where the Friday prayers are held, and chanted anti-Israeli and anti-U.S. slogans.
Terry Jones, the pastor of the Gainesville, Florida-based Dove World Outreach Center church, had intended to set the Quran on fire on the ninth anniversary of the September 11, 2001 attacks against the United States but cancelled his plan due to international pressure and criticism.
However, a copy of the Quran was burned by a U.S. citizen on Sunday.
The protesters called for the drafting of an international treaty to prevent any desecration of the sanctities of divine religions in the future.
At the end of the demonstrations a statement was issued condemning the sacrilegious acts committed toward the Quran.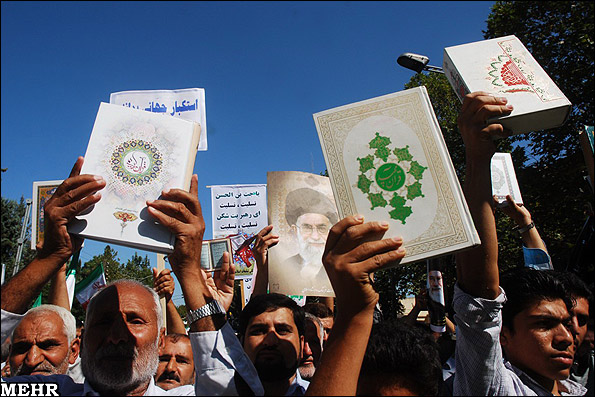 The Muslim world regards the sacrilegious acts carried out by the agents of international Zionism and the United States as a weakness of the global arrogance, and they clearly show that the Western system of liberal democracy is in decline, the statement said.
Muslim nations and all open-minded people of the world are incandescent with rage over the flagrant insult to Islam and divine values committed by international Zionism and U.S. colonialism, it added.
Muslims and all freedom-seekers in the world are running out of patience with the archenemies of Islam over their incessant anti-Islamic actions and their insolence toward Muslims in countries like Afghanistan, Iraq, Pakistan, Palestine, and Lebanon, the statement noted.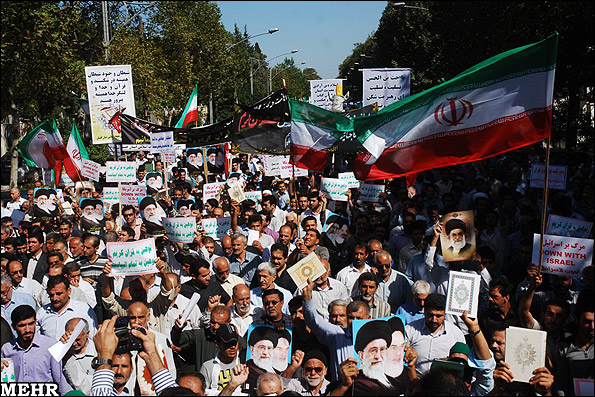 As Supreme Leader of the Islamic Revolution Ayatollah Seyyed Ali Khamenei has stated, the Muslim ummah bears a great responsibility, and to that end, the Islamic nation of Iran has participated in these demonstrations to censure this sacrilegious act, the statement said.
This week's Tehran Friday prayers leader, Ayatollah Ahmad Jannati, also condemned the desecration of the Quran and described the act as insanity.
"They burn the Quran like crazy people who do not know what else to do," said Janati, who is also the chairman of the Guardian Council.
HJ/HG
END
MNA