A collection of 120 works from the international trove of the museum was unveiled during a ceremony on May 25 in which TMCA director Mahmud Shaluii, Deputy Culture Minister for Artistic Affairs Mohammad-Hossein Imani-Khoshkhu, secretary of the exhibit Gholamali Taheri, foreign cultural attaches residing in the country and a great number of artists attended.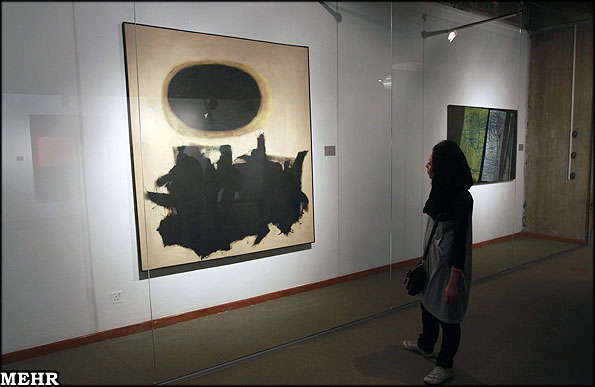 Director Shaluii made the opening speech and said that over 100 works are from the painting collection and the rest are sculptures, being put on display for 40 days. He added that some of the works have never been put on display at the museum or any other exhibit.
"Tehran museum is home to a precious treasure and this exhibit will help researchers, students and masters of the visual arts to conduct research on the collection," he said, adding that there is also a plan to display the Iranian collection of the museum in near future.
Next was Imani-Khoshkhu, who expressed his happiness over the launching of the exhibit and said, "It is a great pleasure to have such a treasure as our own cultural heritage and it is an even greater pleasure to see our own artists making good progress and playing major roles in the international arena these days."
"Following the recent strategy to develop art, great talents have arisen among the young artists, and we have received many requests over the past few years from countries wanting to display works by Iranian artists," he explained.
He also expressed his hopes that Iranian artists would help to better introduce original oriental art and culture to the west.
Secretary Taheri said that the collection on display contains works by artists varying from the impressionist to the contemporary era including Vincent Van Gogh, Pablo Picasso, Claude Monet, Andy Warhol, Rene Magritte, Jackson Pollock, and Paul Gauguin.
Painter Habibollah Ayatollahi spoke next and, referring to the works on display, said that the collection shows the big transition of western art. "Young artists must remember that art is not born all at once, but is rooted in human knowledge and wisdom. Perhaps some of the works will be incomprehensible to us, but we must learn to see them as they are," he concluded.
The Tehran museum is located on North Kargar St., near Laleh Park.
RM/YAW
END
MNA