Sharif called Iran's industrial progress since the Islamic Revolution awesome after visiting an Iran Khodro Industrial Group car-manufacturing plant, the Tehran Metro, and Milad Tower on Thursday.
It is a matter of pride and joy for Pakistanis to see that their Islamic neighbor has made such progress in every field, and especially the industrial sector, despite the many sanctions and restrictions that have been imposed on the country, he added.
Iran's Energy Ministry has agreed to cooperate with Pakistan, which is facing a 4000-megawatt energy shortage that has caused the closure of many industrial companies, hampered the agricultural sector, and led to frequent power outages throughout the country.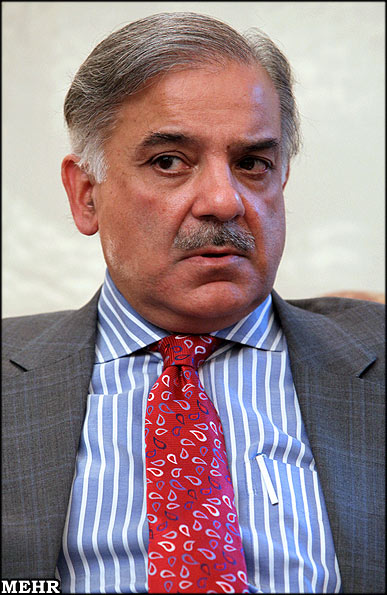 On Thursday, Iranian Energy Minister Parviz Fattah told the chief minister of Pakistan's biggest province that Iran is prepared to help in the efforts to establish solar, wind, hydroelectric, gas, and coal power plants in Punjab Province.
The Punjab chief minister said Pakistan has 263 million tons of coal reserves and would like to utilize cutting edge Chinese technology and attract Iranian investment to establish two 100-megawatt capacity power plants in Punjab Province, one in Lahore and another in Faisalabad.
Sharif, who is also the leader of the Pakistan Muslim League-N, the second biggest party in the country's parliament, said Punjab Province also seeks to attract Iranian investment for joint ventures to establish a wind power plant in Photohar and a hydroelectric power plant in Taunsa Barrage, which is located on the Indus River.
He invited the Iranian energy minister to visit Pakistan to study the possibilities for cooperation in these projects.
Fattah accepted the invitation, saying that it would be great to work with Punjab Province, which has a larger population than Iran.
Sharif was accompanied by Pakistan's ambassador to Iran, M.B. Abbasi, Punjab Provincial Minister for Finance, Planning and Development Tanvir Ashraf Kaira, and Punjab Provincial Minister for Local Government Sardar Dost Muhammad Khosa.
Sharif's delegation also included Punjab provincial assembly members and Pakistani industrialists and businessmen.
The Pakistani delegation spent many hours at the Iran Khodro plant and held discussions with the Iranian car company's officials on the possibilities for cooperation between the two countries in the car industry.
Sharif acknowledged the quality and high standards of the vehicles manufactured by Iran Khodro.
At a press conference at the Pakistani Ambassador's residence in Tehran on Thursday night, Mr. Sharif said that he began his trip to Iran in Mashhad at the Shrine of Imam Reza (AS).
After a few more opening remarks, he answered reporters' questions.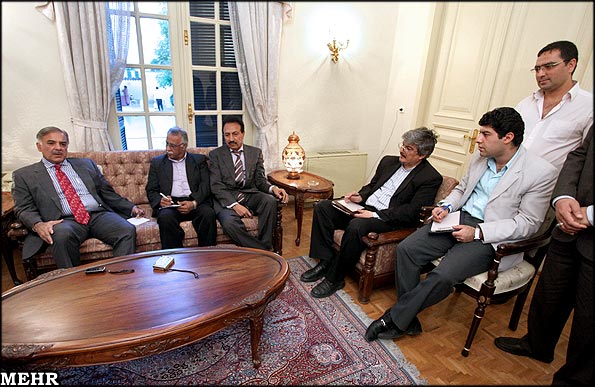 He said Pakistan wants to solve the problems caused by the Pakistani Taliban through economic and social measures, although military measures are also sometimes necessary. But he pointed out that Pakistani officials are aware that the extremism problem cannot be solved by military measures alone.
He also stated that he believes that former Pakistani President Pervez Musharraf's policy on the Taliban was wrong.
Commenting on his trip, he said that Iran has a society that is vibrant and moving forward.
Islamabad would like to strengthen Iran-Pakistan ties in the fields of trade, culture, industry, and energy and would also like to start many joint ventures with Iran, he added.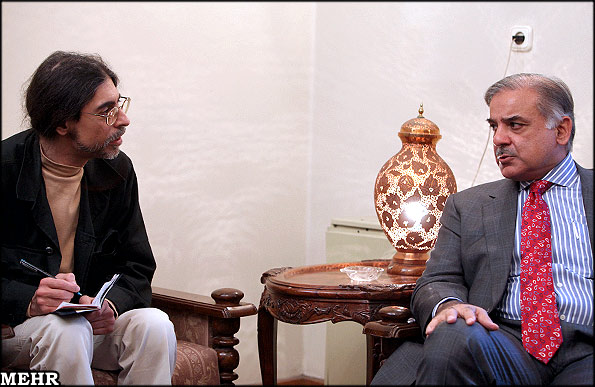 Pakistani officials want to meet the country's energy needs through cooperation with Iran in the gas and oil sectors, he said.
He went on to say that he signed a memorandum of understanding in Mashhad for joint exhibits in Lahore.
He noted that he was very impressed by Mashhad's expo center.
Sharif said he also visited Ferdowsi University in Mashhad, which will be establishing an Iqbal Department in the near future, and added that Punjab University in Lahore has decided to establish a Ferdowsi Department.
On the recent Pakistan donors conference in Tokyo, he said that it would be much better for Pakistan to look inward and not outward and to try to move toward self-reliance.
GJ/HG
END
MNA