Participating in the closing ceremony, the director of the Visual Office of the Ministry of Culture and Islamic Guidance Mahmud Shaluii expressed hope that the next edition would turn into an international event, providing a chance for Iranians to compete with other world artists.
He also announced that a budget of 200,000,000 rials (about US$20,000) has been dedicated to purchasing art works.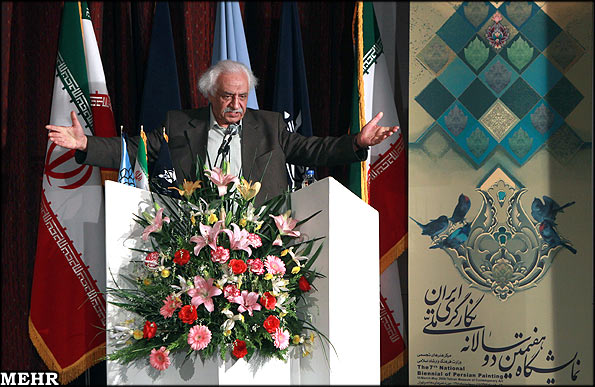 Jury member Abbas Jamalpur delivers a speech during the closing ceremony of the 7th edition of Iran's National Biennial of Persian Painting at the Tehran Museum of Contemporary Art on May 9, 2009. (Mehr/Mohammadreza Abbasi)
"A selection of artworks from the biennial will go on display in Isfahan, and afterwards they will probably be exhibited outside the country. It is a great honor to show our Iranian art to the world," he remarked.
He also talked about plans to establish a center in Dubai to exhibit Iranian artworks as well as to hold an exhibit in the Italian city of Bari.
Secretary of the biennial Morteza Heidari was next to speak said, "If we call Iranian painting traditional, this doesn't mean we are simply marking time. On the contrary, we must also try to be innovative in our art form of miniature."
Afterwards, the awards were handed to the winners in the different sections. Over 1600 miniature works of different types created by 522 artists were put on display, almost half of which took part in the competition section of the biennial.
At the miniature painting section, awards were handed to Amir-Hossein Aqamiri, Yusuf Hosseini and Roya Kazeruni. In the flower and bird style of painting, Amir Tahmasebi, Mehdi Irani, and Mehdi Fakhar-Monfared took the awards.
At the section of tash'ir (a form of simple illumination decorated with tiny disordered patterns), the awards went to Ehsan Qaemi, Nushin Nazari and Azadeh Rahmani, and at the illumination section the awards went to Saeid Arsalani, Farshad Rahmani, and Nasrin Aqamiri.
At the seminar section, Shervin Faridnejad, Amir Rezaii-Nabard, Nushin Nazari, Hamidreza Haqnazarlu, Zohreh Jafari and Ali Fallah-Kordi were honored. Several other artists were also honored in different sections of the competition.
Works at the 7th edition of the biennial have been on display at the museum since early March.
RM/YAW
END
MNA