The accident occurred at 5 p.m. while filming a scene that involved a bus falling into a valley. Abadi, 37 was to jump out of the bus when apparently, the bus overturned on Abadi and burst into flames.
The scene was being shot in the region of Kan, near Tehran and Abadi was a stuntman for Bahman Daan. "Invisible Eyes" is produced by Ali-Asghar Seddiqi and filmmaker Mohsen Musavian. The film stars Ferdows Kaviani, Zahra Oveisi, and Kianush Gerami.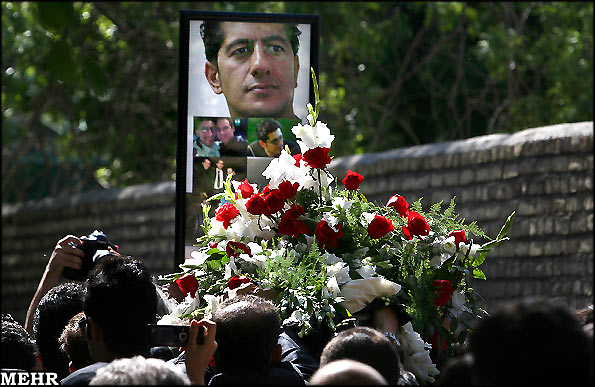 People attend the funeral ceremony of Iranian stuntman Payman Abadi in front of Iran's House of Cinema in Tehran on May 8, 2009. He was killed during shooting a scene from the action telefilm "Invisible Eyes" on May 6. (Mehr/Ra'uf Mohseni)
Abadi was an experienced stunt technician who had worked on a string of successful cinema and television hits. He was most famous for his appearance in the early episodes of the German TV series "Alarm for Cobra 11," which is still broadcast on Iran's TV channel 5.
"For me being a stuntman is like a daily routine of life, it is kind of love. I think of it as something that I can say is the dream of every young man, because of its liveliness, heart-stopping moments and adventure. It is a sport scientifically portrayed as an art," he had said once in an interview with the Persian daily Tehran-e Emruz.
He was in Iran for the past three years and had acted in many productions as a stuntman and worked as a designer of stunt accident scenes. He also established a school in which he trained students as stuntmen for films.
His funeral procession began Friday morning in front of Iran's House of Cinema with many actors and filmmakers attending. Reza Kianian, Baran Kowsari, Mohammadreza Golzar, Siamak Ansari, Reza Tufan and Sima Pornur were among the participants at the ceremony.
His student, Babak Baqeri, talked about Payman's character and called him a true friend, "he was a god-tempered man and his self-confidence was inspired all of us. He was loved by all." He added that Payman came to Iran aiming to revive Iran's action cinema and he did his best to achieve that goal but regrettably, lost his life to it.
Masud Haqqi, a member of filming troupe described the accident saying, "All crew members did their best to save his life. The scene was designed in such a way that the bus driver would loose control of the vehicle and it would fall into the valley. Payman did not like to repeat the same old tricks, so he requested that petroleum be poured into the rear end of the bus and the he be given a Molotov cocktail to ignite it. The director asked him to give up the scene but he insisted he would jump out of the vehicle in time before it exploded. He had thought of every detail but it all happened at once."
Abadi was born in 1972 in Tehran but grew up in Germany. He had a Ph.D. in psychology and was a member of Action Concept, a German company specialized in making action-scenes for TV and film.
He had also once declared he did not like to work for directors as a mere stuntman, but liked to promote the regulations and culture of the profession of stuntman, and to teach what he had learnt in Germany as a stuntman.
His body was buried in the artists' section of Tehran's Behesht-e Zahra Cemetery.
RM/YAW
END
MNA