In this ceremony, the best documentaries produced over the past year were selected and awarded in the presence of Deputy Culture Minister for Cinematic Affairs, Mohammadreza Jafari-Jelveh.
The award has been established by the Experimental and Documentary Film Center (EDFC) to commemorate the martyr Morteza Avini, the writer and documentarian who chronicled the 1980-1988 Iran-Iraq war.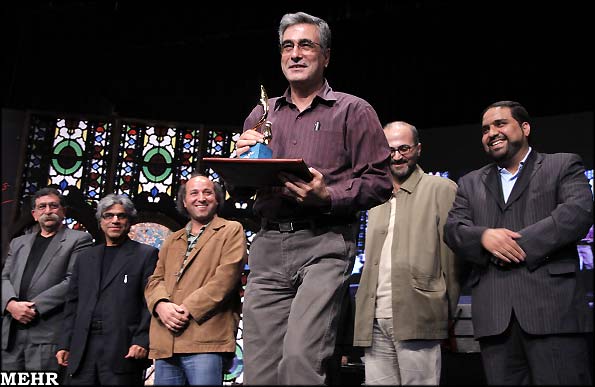 Documentary filmmaker Mohammad-Ali Farsi holds the best film prize he won for "Resurrection" at the 2nd Annual Avini Awards ceremony at Tehran's Andisheh Hall on May 3, 2009. (Mehr/Yunes Khani)
EDFC director Mohammad Afarideh first made a short speech and said that God bestowed a great honor upon him to see this great revolution and visit closely with those who are martyrs now.
Jafari-Jelveh also declared that it is good to continue this cultural event, "Making an active movement in Iran's documentary cinema and naming it after someone who had a major role in Iran's documentary cinema is a good thing.
"We can call Martyr Avini the founder of a school in Iran's cinema documentary. Cultural awards are like a lamp illuminating the way and are a means to remember the names of our dear ones," he noted.
The widow of Avini, Maryam Amini also present at the ceremony, expressed happiness on establishing such a cultural event and expressed hope this would continue in the fields of art and literature.
Following is the list of the winners at the main competition section:
* First Golden Prize: "Resurrection" by documentary filmmaker Mohammad-Ali Farsi
* Second Silver Prize: "Trinity: Scientist, Politician, and Bomb" by Hossein Sharif
* Third Silver Prize: "Tinar" by Mehdi Moniri
In addition, three more documentaries received honorary plaques in this section. The honorary plaques went to the documentaries "101 Years of the Tehran Municipality," a joint production of Orod Attarpur and Saeid Malih, "The Lady of Red Rose" by Mojtaba Mir-Tahmasb, and "All My Mothers" by Ebrahim Saeidi and Zahavi Sanjavi.
Hossein Torabi, Farhad Varahram, Mohammad-Ali Basheh Ahangar, Mohammad-Mehdi Tabatabaiinejad, Ali-Mohammad Qasemi, Hossein Moazzezinia and Pejman Lashkaripur were the jury members for this section.
The special award at the Victory of Resistance Section also went to the documentary "Human Rights" by Mohammadreza Eslamlu.
RM/YAW
END
MNA