As many of Tehran's billboards are displaying posters advertising the film the movie's premiere has been postponed for four days. It will be screen on July 30 at the Cinema Africa.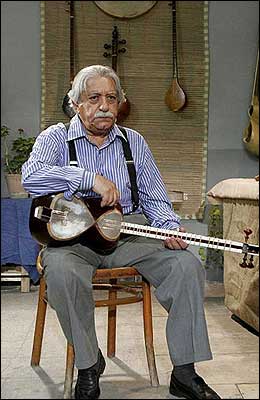 Ezzatollah Entezami in a scene from "Mina of the Silent City"
Entezami expressed his amazement that a film awarded two Crystal Simorgh prizes at the 25th Fajr Film Festival in 2006 should have to wait 18 months to go on screen at a cinema in Tehran.
The film had been scheduled to be shown in several Tehran movie theaters but for the premier date the director was informed that only one theater would be allocated to his film, Entezami commented.
He called the award-winning film a symbol of Iranian national cinema, which is about the love for the country and he called upon officials to be kinder to the "culture-creating cinema".
Directed by Amir-Shahab Razavian, "Mina of the Silent City" tells the story of the Iranian doctor Bahman Parsa, who returns to his homeland from Germany after 35 years. He is accompanied to his birthplace, the quake-stricken city Bam, by one of his father's old friends, where he looks for his lost beloved.
Actors Saber Abar and Mehran Rajabi, actresses Roya Javidnia and Maryam Meschian, executive manager Saeid Razavian, musician Dariush Taqipur, and stage and costume designer Mehrdad Zahedian are some of the cast and crew members.
SB/YAW
END
MNA