People flocking to take part in the funeral procession of the veteran actor blocked all streets and alleys leading to
Tehran
's Vahdat Hall from the early Sunday morning.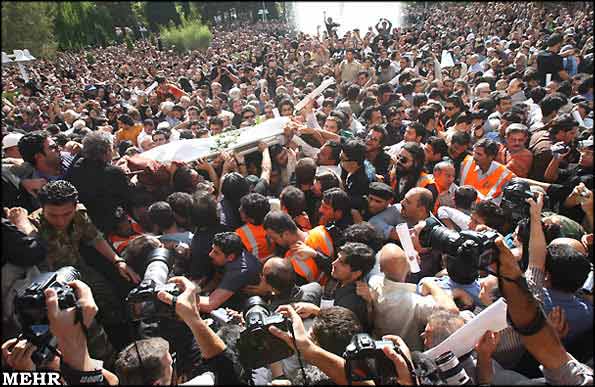 Shakibaii died of heart failure caused by liver cancer on July 18. He was 64.
Funeral processions for cultural figures and artists are usually held at the Vahdat Hall or Iranian Artists Forum, but none of the venues have seen a crowd of this size before.
Actor Parviz Parstuii, who worked as the funeral director, frequently had to ask people to maintain silence.
Meanwhile, singer Hossein Bakhtiari was called to the stage to sing Shakibaii's favorite memorable song "Melodious Spring".
According to Parstuii, directors Sirus Alvand and Masud Kimiaii, and actress Jaleh Olov were slated to deliver speeches during the ceremony, but all were canceled because of the huge crowds of people.
Afterwards managing director of the Theater Forum Iraj Rad gave a short address thanking the people for attending the ceremony.
"Unfortunately, one of the greatest of Iran's acting personalities has left us. We were proud of him and, no doubt, many years will pass before we will see such an artist again," he said.
Shakibaii is survived by his wife and son Puya.
"I thank all of you. Father is present here and is happy seeing the kindness of his people. I thank all of you, who had a deep affection for my father," said Puya.
Many cultural officials, including culture minister Mohammad-Hossein Saffar Harandi attend the ceremony.
"There are two categories of artists; those who gain credit from the artistic arena and others give credit to the arena; Shakibaii gave credit to the arena with his high morals and distinguished career," Saffar Harandi said.
Shakibaii's love of the people
Shakibaii had achieved widespread popularity, and was attached to people.
"People will remain people forever without me, but I'm a dead man without people," he once said in an interview in 1995 with the Persian weekly, Cinema Video.
"We are the outcome of our beloved people's mind power and their memories. Without people, art is like a tree without a root; an actor is nothing without people," he noted.
He felt indebted to veterans and those who taught him many different things.
"I'm indebted to the first teacher who taught me reading and writing… I've never been proud of my individual abilities. I'm the essence of the energy produced by people and my friends; my speech is fragranced by their kindness… I will commemorate the teachers of the past and the teachers of the future," he said.
MMS/YAW
END
MNA