Shakibaii was the superstar of Iran's cinema for many years and the darling of families in the TV series "Green Home".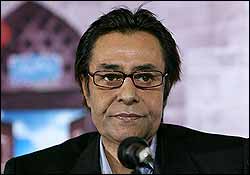 Khosro Shakibaii attends the review session of "Night Bus", which was screened in the competition section of the 25th Fajr International Film Festival in Tehran in February 2007.
He surprised the critics with his role in Dariush Mehrjuii's "Hamun" in which he played the role of Hamid Hamun. His distinguished acting gained him the Crystal Simorgh award at the Fajr International Music Festival.
He also took home the Crystal Simorgh award some time later for his role in Ahmadreza Darvish's "Kimia" and an honorary diploma in Kiumars Purahmad's "Night Bus".
Shakibaii was born in 1944 in Tehran. He graduated in acting from the University of Tehran's Fine Arts Academy. He began his stage career in 1963 and film acting in 1982 with "The Red Line" (Masud Kimiaii).
He played in some 40 movies and worked with famous filmmakers such as Dariush Mehrjuii, Naser Taqvaii and Masud Kimiaii.
He found fame playing Hamun, but experienced difficulty in separating from the role of Hamun for many years, and was recast in the part in several other movies.
His performance in Amrollah Ahmadju's TV series "Once Upon A Time" playing the role of "Morad Beik" was one of the most brilliant acting performances in his lifetime career.
He possessed a unique tone of voice and released a number of tapes in which he recited the poetry of several contemporary poets including Sohrab Sepehri.
RM/YAW
END
MNA