"Bijan and Manijeh" directed by Mahmud Azizi is currently on stage at the main hall and will perform until August 5.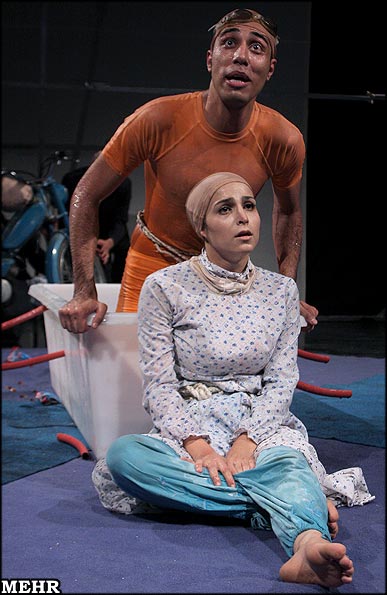 "Bride, Nightmare, Regret, Bluetooth"
A classical love story in Persian literature found in Ferdowsi's epic Shahnameh, "Bijan and Manijeh" tells the story of the Iranian warrior Bijan during the rule of Kai Khosrow who falls in love with Manijeh, the daughter of Afrasiyab the king of Turan.
Qotebeddin Sadeqi's "The Memoirs of Zarir" is being performed at Chaharsu Hall.
Based on an ancient Iranian story from the book "The Memoirs of Zarir", the story describes the ancient religious wars at the time of Zarathustra, and recounts the heroic deeds of a champion named Zarir, who is mentioned in Ferdowsi's work.
Davud Daneshvar's "On Foot", a play written by the Polish dramatist Slawomir Mrozek, is also appearing on stage at the City Theater Complex until July 13.
The play is the 24-hour story of a group of Polish evacuees who wanted to return to their country after the end of World War II by train, but never arrived.
"He's Lost in the Crowd" directed by Jalal Tajangi is performing in Qashqaii Hall until August 7.
Inspired by two poems composed by Syrian poet Nizar Qabbani, the play features the post-war circumstances of people and the juxtaposition of love and politics.
The City Theater Complex also is playing host to Arash Mirtalabi's play "Bride, Nightmare, Regret, Bluetooth" which will be on stage until July 23.
The play is on the theme of mobile phone misuse and its consequences.
SB/YAW
END
MNA