This is the first exhibit under the supervision of the new TMCA curator Mahmud Shaluii.
A group of artists and cultural figures attended the opening ceremony. Shaluii was the first to give a short address in which he said, "This exhibit creates an opportunity for the great masters of calligraphy and private collectors. We hope this will influence organizers to consider arranging a national biennial of calligraphy in the near future."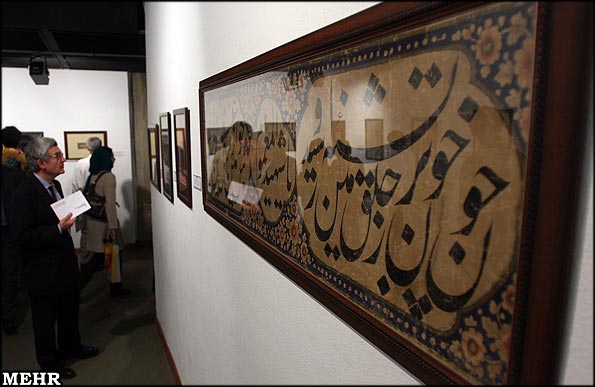 Secretary of the exhibit, Hamid Ajami, was the next to speak and talked about the first exhibit of calligraphy that was held ten years ago in Tehran.
He noted that there had been many problems over the years but they finally managed to hold the second exhibit.
Some of the works on display date back to the Safavid and Qajar eras, and some are creations of contemporary artists, he added.
An exhibit displaying traditional instruments used for Iranian calligraphy which include various kinds of pens, penholders, penknives, and scissors, is also open in the side section.
Nastaliq is one of the main genres of Islamic calligraphy. It was developed in Iran in the 14th and 15th centuries and it has been popular in Persian, Turkish, and South Asian cultural spheres of influence.
Seminars on traditional and contemporary art of Persian calligraphy will also be held on the sidelines of the month-long event.
The Culture and Islamic Guidance Ministry's Office for Visual Arts, the Association of Iranian Calligraphers, and the Visual Arts Department of Tehran's Art Bureau are the cosponsors of the event.
The Tehran Museum of Contemporary Art is located on North Kargar St., next to Laleh Park.
RM/YAW
END
MNA